07.31.2019

- Events
Boléxplosion- GUARDA CHE LUNA!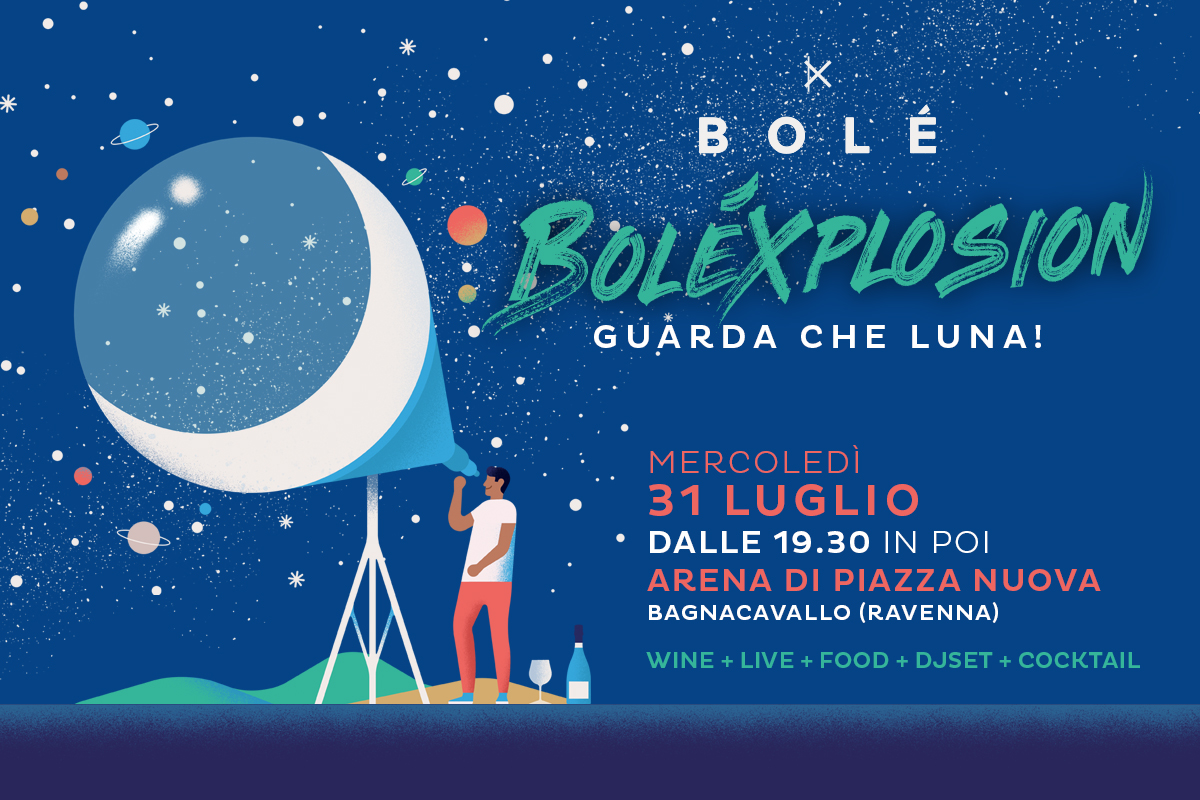 WINE + LIVE + FOOD + DJSET + COCKTAIL
Boléxplosion
Guarda che luna!
Wednesday 31st July 2019
From 7.30pm
Arena di Piazza Nuova, Bagnacavallo
FREE ADMISSION
From the date of their first launch, from the hill to the coast, passing through the most fascinating villages of our territory, bright, engaging and unstoppable bubbles have illuminated the Romagna sky, projecting their light onto new, unexplored horizons.
After crossing outer space, Bolé's energy explodes in the evocative setting of the Arena di Piazza Nuova, in the heart of Bagnacavallo, to celebrate the summer together.
Wednesday July 31st, with eyes to the sky, we will meet within the thirty arches of one of the most beautiful squares in Italy.
Boléxplosion - GUARDA CHE LUNA!: a party under a roof of stars, illuminated by the moon, dedicated to Romagna's bubbles. A melting pot of curated flavors, musical delights, good vibrations and moments to share.
From 7.30pm, aperitivo, wine, cocktails, and food will be accompanied live music and DJs - let's dance and toast together to the most beautiful season!
Are you coming to see the moon?
WINE: Bolé

FOOD: Flavors of earth and sea, interpreted by some of the most important Chefs of our region. Follow us to discover the menus of our protagonists!

MUSIC: Guano Padano LIVE + DJs, in collaboration with Bronson Produzioni
We greet the summer to the rhythm of Bolé, the new Italian DOC sparkling wine from Romagna that speaks of discoveries, pleasures, joy in being together and everyday extravagance.


#bolewine #bollicineromagnole
INFO: eventi@bolewine.com