10.12.2021

- Art & Design
By the people, for the people: the team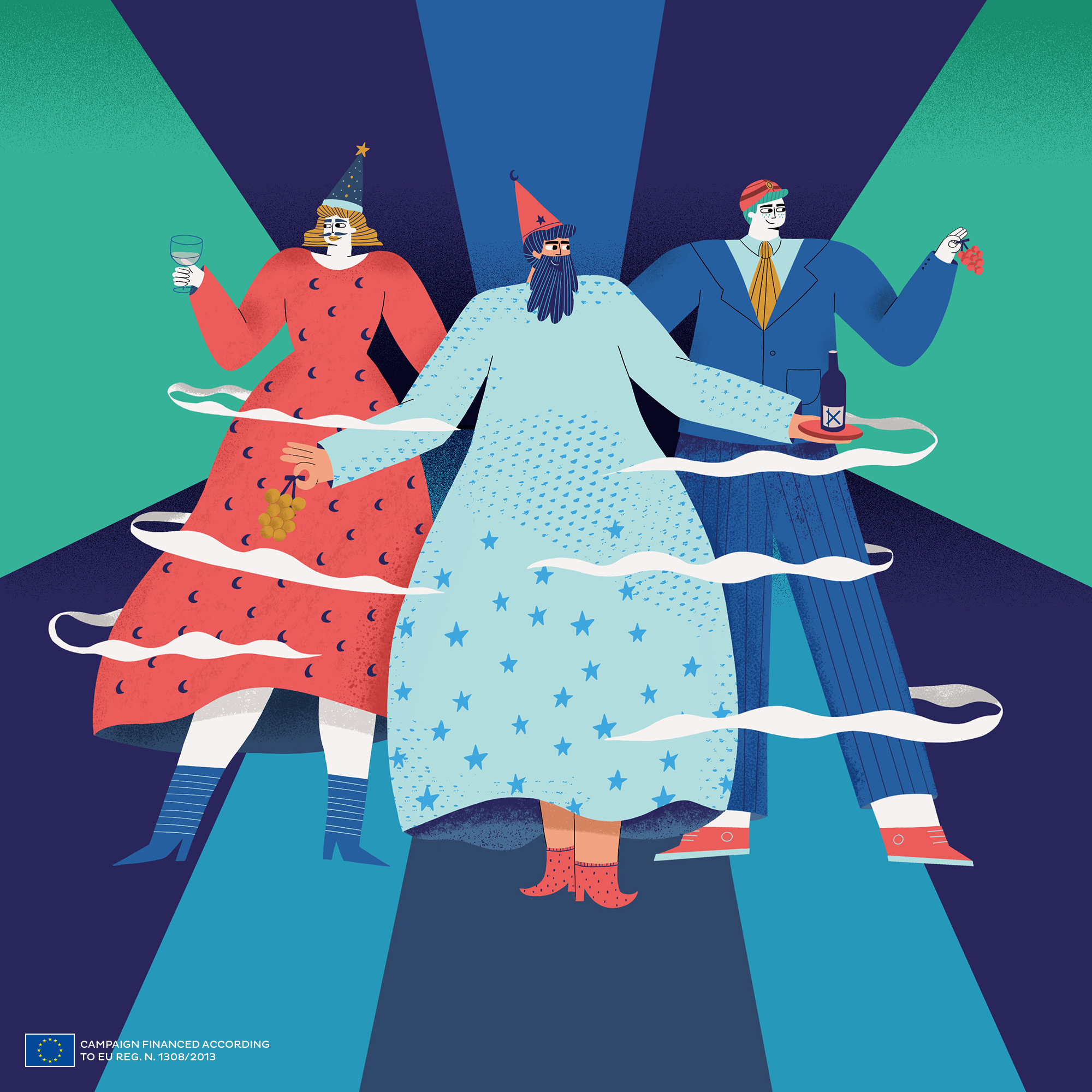 A new meetup with bubbly Bolé's adventuresome journey into the world of the visual arts puts the spotlight on the second illustration by Shut Up Claudia. This always-surprising artist turns her very personal gaze to a new figure in our ongoing story: following our initial protagonist, the grapegrower, let's salute a "multiple figure," the team of creative geniuses.
That may be one player, but it is made up many, many individuals who every day transform obsessively-selected Trebbiano and Sangiovese grapes into those magical Romagna bubbles that we all prize so much. Real magic? Well, there certainly is a pinch of that, but the bottom line is that we're talking here about creativity at its purest sense, because all those working at Bolé are actually pioneers, creating something new, never seen before.   
They are not simply making wine, but creating a profound, new reality, one that conveys a land, a vision, and inspiration, a combination that thanks to the efforts of so many generous souls, brims over in our flutes, amazing, celebrating, satisfying.
Have you ever asked yourself what "making wine" really means? Or how many people have worked to bring you that simple glass bottle? Bolé has a real story to tell, because those bubbles hide a team that would easily fill an entire sports stadium! That includes vineyard staff, winemakers, cellar workers, technicians, production supervisors, warehouse and office staff, PR and marketing folk, sales reps, wholesalers and retailers…
There are passion and dedication aplenty in this many-handed game, and all the players are working steadfastly in one direction: crafting a wine that will eloquently convey what Romagna is all about, what its people are like, and its values, its icons.
And then? Then, one lifts off into space, speeding towards unknown horizons to talk about Bolé in other languages and tongues.
Just as its versatility adapts it to various moments—from aperitif wine to partner with every course—, Bolé also becomes the common thread linking so many worlds together, a wine embracing the constellation of wine, culture, and the arts,
Now that is an impressive team result!